There are interview questions that are very well suited to evaluating the suitability of an applicant. Competency-based, situational, behavioural.
And there are interview questions that aren't legal, such as questions about family planning. In between, there are interview questions that you can ask, but aren't very beneficial. Then, there are interview questions that just don't make sense, are completely mad or just simply weird.
After an extensive internet search and a completely subjective rating scheme, I present to you the following 10 exemplary interview questions, as well as an attempt to interpret them.
1. What are your weaknesses?
Forever unbeaten in first place. I have six hypotheses to explain this question, which you can read in my post "The weaknesses of a weak interview question".
2. How honest are you?
How can a candidate answer this? "Sometimes I steal from the till when I'm broke" or "To be perfectly honest, I lie my head off…" Hardly likely. The best is this question combined with the weakness question: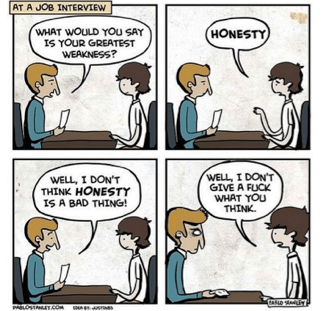 Source: http://www.funnyjunk.com/funny_pictures/4790476/Your+greatest+weakness
3. Which song best describes your work ethic?
This question is most likely attributed to the category of reflexive assessment approaches. This also includes the Rorschach test or studies by scientists that ask people to represent their family members as animals.
This question intends to disclose work ethic by song preference. Interesting answers with plenty of room for interpretation are "Under Pressure" by Queen or "Money for Nothing" by Dire Straits. It would probably be most advantageous to answer with a sports anthem to show dedication and enthusiasm.
4. How does the Internet work?
This question is really exciting and was conceived by a legend at a technology company. What exactly is the right answer here? Does the question refer to the technical side of the internet or why millions of people love to like cat pictures? Or is it more of a philosophical question, which aims at the big picture? The perfect answer isn't known, for (creative) suggestions, let me know by posting a comment below. 🙂
5. On a scale of 1 to 10, how innovative are you compared to Steve Jobs?
The intention of this question is to find out by using a historical comparison. Beginning of the 19th century, a music publisher in Vienna had the idea to give the same motif to composers, for them to create a variation on that theme. Among them were well-known composers such as Franz Schubert and Liszt, who took on the challenge. Only one scoffed at the idea, but then delivered not one, but 33 variations.
At the end there was an anthology of the works of the famous composer and besides the 33 variations (the first three I can even play) composed by Master Ludwig van Beethoven and presenting an extra work outside of that competition. Since then, when choosing their court conductor, rulers would ask each candidate: how musical are you on a scale of 1 to 10, compared to Beethoven? Many great talents were found.
6. Are you more of a hunter or farmer?
In the sales field, there are two different stereotypes: working on existing customers (farmers) and hunting new clients (hunters). Thanks to these metaphors, this question has earned a place in the Hall of Shame of great interview questions.
7. A penguin wearing a sombrero is at the door. What does he say to you and why is he here?
No comment.
8. How happy are you and why?
What is the point of this question? To evaluate the potential of depression? To investigate the team fit because everyone in the company is happy all the time from sunrise to sunset, because everything is so 'awesome' and 'wicked'? Who knows… The best answer is probably to reply with a Kylie Minogue song or say "I enjoy myself like a schnitzel".
9. What would you serve us if we came to your house for dinner tonight?
Here are possible answers, following the Likert scale:
Canned ravioli
Spaghetti with instant sauce (requires at least a pot for pasta and sauce)
Sauerkraut and smoked pork with a side salad for the main course and pudding for dessert
Onion soup as a starter, a roast as main dish and pancakes for dessert (all with local ingredients
Morel soup for entrée, sea bass in puff pastry with champagne lobster and truffle filling as main dish and caramelised creme brulee for dessert → the job is yours
10. How did you find me as an interviewer?
After all the above questions: 12 out of 10.
What are your favourite bad interview questions?
Inspiration and more curiosities can be found here: http://www.glassdoor.com/blog/top-25-oddball-interview-questions/
PS. If you want to know what is actually important for good recruitment, have a read of our whitepaper on how to make good hiring decisions using video interviewing.